by
Dylan Yap Gozum
Featuring
SALA
- Maria Orosa Street (Malate, Manila)
It isn't every time that you come across a place - say, a restaurant - that has its very own distinct character. Recently, both Manila and nearby Makati have seen the opening of restaurants that were heavy on the interiors but whose menus fall short of expectations. Truly, one can declare that a visit to these places is not worth it. No te compensa.
There are many other restaurants in the metropolis, and then there is SALA. Nestled between established hang-outs in the famous Nakpil strip - the original home of Casa Armas is just a few steps away - SALA, from the outside, appears to hardly fit in the bohemian character of this place. Clean, straight lines of concrete and glass frame the entrance, but those passing by Nakpil are given a peek into it through its huge picture window - soft white lights, cozy seats, crisp linen. There are hints of green, crystal and silver. It's a world that beckons, almost magical.
Indeed, SALA will surprise the first-timer. The appetizer and main menu is sparse (though this cannot be said of the spirit and wine list) but there is this palpable promise of one exciting dining experience ahead. Once the maitre'd unfolds the napkin on your lap, you're in for a ride like no other.
The breads are crunchy and tasty, as expected. In fact, there is almost no need for the butter. There are touches of celadon on your table. La Vie en Rose is playing (standards that span the 1920's to the 40's are apparently usual here, and lends an air of rightful and appropriate sophistication to the place). The yellow light of the candle lights up the face of your partner. The San Pellegrino and the red wine perks you up.
The dining staff are the only people you notice (everyone else blends into the surroundings). They attend to your every need - promptly, graciously, and with that killer charm that seems to be characteristic of SALA and its sister restaurants (MAMMA on Nakpil, now sadly defunct, and People's Palace two doors away). These guys were trained to please, yes. They are naturally concerned with you. Unobtrusive, yet they are quick to respond to your every need. They have this air of pride about them that they can sound haughty without even trying but I suppose it comes from that inner pride that arises from being a part of SALA, and everything that has made it what it is today.
With slim silhouettes created by black tight shirts and trendy flat fronts, they seem to be reminders that you've lost time in the gym, but heck. I'm here for the food, not on a guilt trip. I will live through this, hah!
To begin with, the tomato basil soup blew my mind away. I just had to keep quiet (I'm usually bubbly) and savor every spoonful of that rich, sinful concoction. My friend had double-baked soufflé - an awesome piece of art work on a plate but subtle flavors of which will make you want to invite everybody to PLEASE take a little bite of this, just to make them feel how it is to feel like swooning in pure pleasure.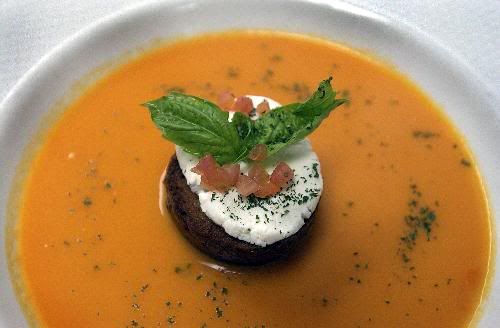 The main course consisted of pork tenderloin on a bed of rhubarb and vin de rouge sauce, and duck ragout on homemade pasta, both of which you can always pair with a wine of your choice.
Ending our meal with cheesecake, glace, and fruit, all I can say is that SALA conjures up all forms of clichés - divine, delightful, amazing.
My dining partner thinks of it as being so Edith Wharton-esque: impeccable, proper without being stiff and boring, and exciting. You could dwell on every moment, really. Enjoy yourself. Laugh. Plot. Every bite is inviting you to be a different person, to lose yourself in a world of aroma and flavors.

It's one great experience indeed; something to regale friends with (think jealousy factor) even if you wish you could keep it a secret from everybody. In short, a SALA visit is truly something to always look forward to.