I always look forward to visiting the Diliman campus of the University of the Philippines. I was supposed to enroll here in 1992 after I passed the UPCAT exam for Political Science but Mom didn't want me to go. Sayang...

At any rate, i'm visiting to discuss matters with Chef Carlo at the nice and cozy Chocolate Kiss. Forgot to take a photo of the place though. Silly me. Next time na po!


The UP main entrance as taken from the cab

Chocolate Kiss, a restaurant located at the First and Second floors of the Bahay Alumni, boasts of a wonderful list of new and familiar culinary creations at very, very reasonable prices. It is said that UP students treat their friends here when they pass their exams or something. Sorry for the photos; taken with a Nokia 6260 (Thanks, CC!).

At the Chocolate Kiss. I love this "wall lamp" behind me! (literally covering an entire wall)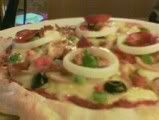 Yummy pizza: Kiss Supreme (Php 160)


Yummy pasta: Hungarian sausages with fresh tomato sauce on penne (Php 160)

It's always a delight to dine here. Looking forward to coming back.