Had a dinner of Chef's salad and Diet Coke with a good friend at Cafe Adriatico, one of the best places to find food in Malate when you are truly famished. Plus, it's the ONLY sensible place to eat in at, say, 11 PM or midnight. Besides, I'm already up to my neck with Chinese food lately, courtesy of Estero and Hap Chang, my midnight dinner best friends.
Como siempre
, I asked for my favorite window seat on the second floor, the one with the magnificent 180-degree view of Remedios Circle (save for one area that is blocked by a wall).
Everything went well until I decided to give in to an age-old pang and ordered blueberry cheesecke. In a restaurant known for good food and nothing but, it surprised us that we had to eat this particular cheesecake by stabbing at it. Yes, s-t-a-b-b-i-n-g, as in stab the fork on the poor cheesecake in order to get a piece of it.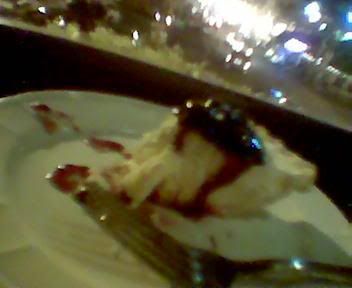 The pretender to the throne against the backdrop of a more alive Remedios Circle. As you can see, the cake is not sliced evenly owing to its unusual solidified property.
Turns out that it wasn't cheesecake but some sort of vanilla ice cream they freeze-dried and topped with blueberry from the can.
Kudos to Cafe Adriatico for bungling on this one. I am suddenly afraid of the entire menu.