Was told of my second writing assignment for

THE REVIEWER

magazine last Monday. I asked Jesy, the Editorial Assistant, to accompany me again because I really hate interviews (especially if I am the interviewee) but since I sometimes lose control of the conversation during interviews because I just allow it to flow freely, I may need somebody to jot down notes for me (using a voice recorder is so ackward). At any rate, it appeared that Thomas Welch, Cable Car consultant just visited the Eastwood City branch just to meet with us, so we made sure we'd be really early. We hanged out at the nearby Cheesecakes Atbp. downing iced tea (it was terribly humid) until 5PM, our call time.

Hungry, exhausted and nervous (he hardly understood what I was asking him; I even stumped him by asking two 'difficult' questions), we finally proceeded to photographing the place and the food they served us.

We had an amazing time in Cable Car. I am honestly looking forward to coming back with family and friends next time. For now, enjoy the photos! I must admit they look soooo much better than those I took last time. Does this mean that I will finally get paid for them, as well? Jesy? You were saying? ;-)


Cable Car Eastwood City. Low battery + flash = bad stupid shot. I'm learning along the way. Now, if only the official photographer wasn't moonlighting somewhere else....grrr!

Pica-pica platter sampler. At Php 325, who wouldn't be blown away?!


The Sr. Gripman's Burger at Php 150: moist beef, bacon and a whole lotta sidings. Umberto Eco would have disapproved.


The best seller: Cable Car fried Rice! And that's just the 'small' serving. Whew!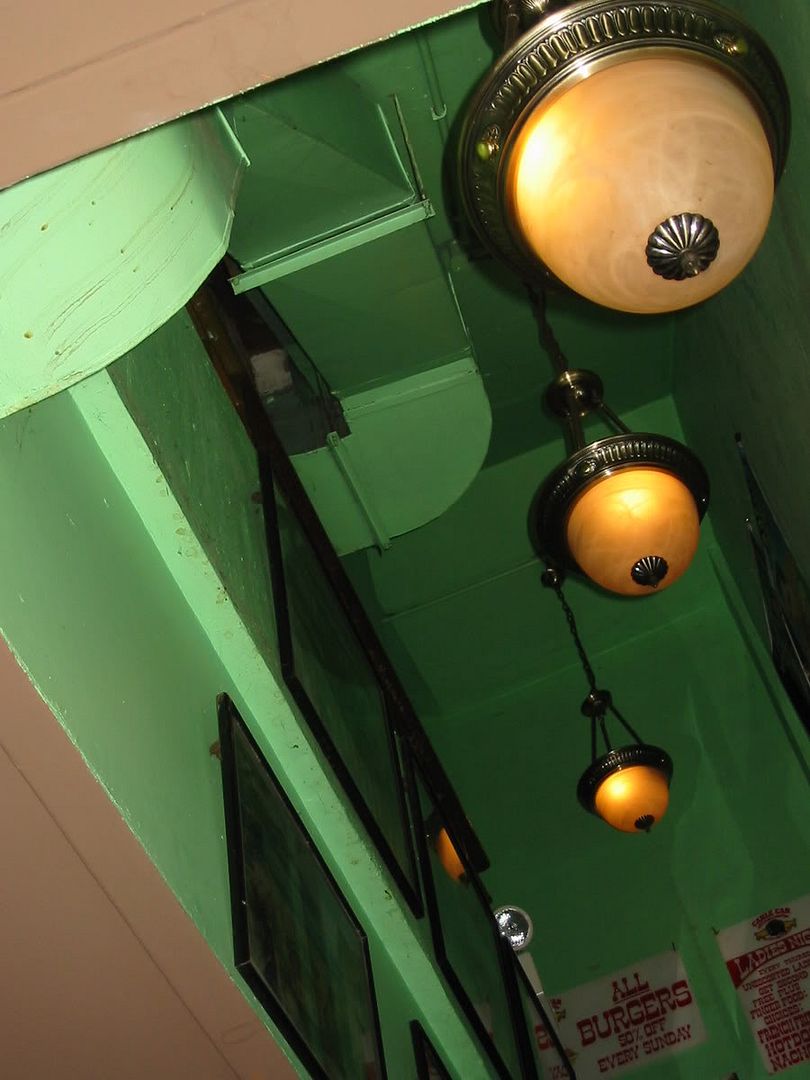 The vintage lamps over the staircase.


The bartender preparing Total Bullshit (Furo Luco)...


...and poor Jesy taking her sip. Heady mixture in there!


View of the main dining area...very very dark place but that's the idea, I guess.


View from the balcony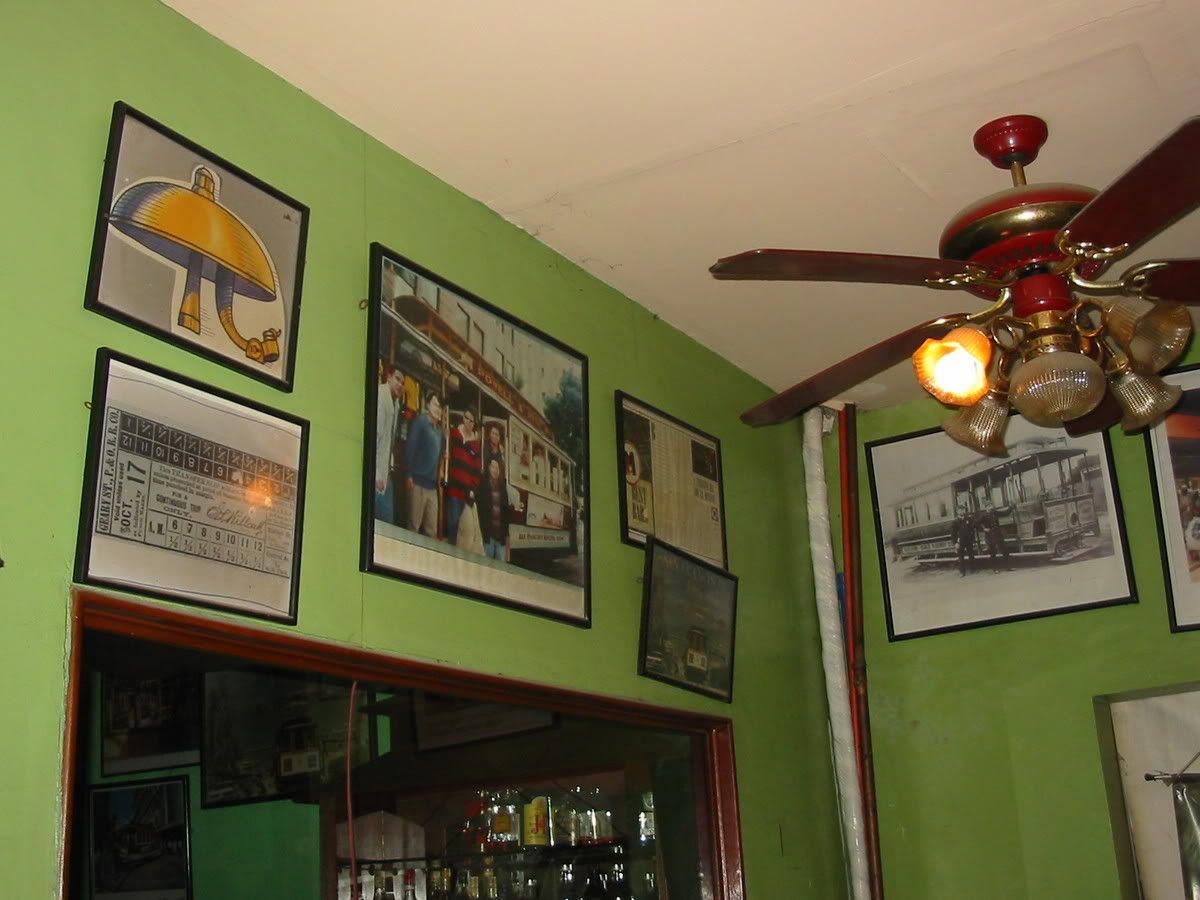 Prints of San Francisco cable cars to match the name

____________________

From Cable Car Bar, with Love
What to make of an English pub which was founded 25 years ago in Yokohama, Japan by one American businessman named Jimmy Stockwell, which serves American-sized servings and whose bestseller is fried rice? A marriage of cultures; that what it is.


We suppose we can find maki and sushi in their Japan outlets, Nonya or Peranakan selections in its Singapore branch, in the same way that the Manila outlets, opened in 1992, have sisig and the immortal pica-pica platters on the menu. Cable Car, from the name alone, is a charming ode to San Francisco and the Old World. The interiors – dim lights, strong dark woodwork, vintage lamps over the staircase, and photographs of San Francisco cable cars adorning the walls – announces that you have just entered another world, perfect for long talks over delicious meals and ice-cold draft, table hockey or ESPN; be it conspiratorial or just simply some catching up with old friends, Cable Car is just the perfect place to loosen your tie and spend your lazy free time.


One might keel over the exhilirating vastness of selections – from breathtaking pica-pica platters to the astounding 17" pizzas. Italian modernist writer Umberto Eco calls this American habit "the shock factor". Moderation is just not in the lexicon of the American dining experience, with servings as enormous as they are gratifying.


"Filipinos travel abroad a lot. They go to San Francisco, they like it there. They look for that experience again," says Thomas Welch, Cable Car consultant. With only word-of-mouth advertising to do the job, could this be the reason why Cable Car stands firm 12 years after while its nearby shops fold up, change owners, or scale down operations? Now there's a thought.


The sisig ("We just do it better," quips Welch) is a product of the collaboration between the management team and the all-Filipino chefs, so as the other Pinoy entrées. "We introduced these items gradually. If it doesn't work, we take it out. If it does, we put it on the menu. You can say it's a menu driven by customer demand," added Welch. In a market where expensive but blah offerings bore the unfortunate diner, Cable Car pulls out all stops to bring you what you want. Succulent shrimps, chicken fingers dipped in honey-mustard dressing (Cable Car inadvertedly introduced this pica-pica favorite to the Philippines), excellent and filling Cable Car Fried Rice, and the gigantic Sr. Gripman's burgers were laid before our exhausted selves during our visit – with food like these, it's about time we chuck our phobias out the window and just enjoy!


The wine and spirits list alone will make any hardened cynic thaw in glee – choose from the bubbly classics Möet et Chandon and Dom Perignon, to 11 versions of coladas, 24 liquor-based concoctions, plus the perennial favorite schnapps, brandies, whiskeys, to bourbon and for the younger set, alco-pops – a dizzying array, indeed.


Any first timer should insist to be served the fiery Furo Luco, and prepare to find yourself blurting out wows in succession (Furo Luco, by the way, is an expletive when loosely translated into English, but that's already for you to find out) but really, what a heady way to start the night!

Undeniably, we in Manila are a luckier bunch. One can make a quick dash to satisfy a craving for Cable Car goodies all year round. Anybody who dares miss out on the opportunity is already a half-a-lifetime loser.